You've found it – the ONLY aftermarket EBR seats to see production!
*LIMITED RUN – We are offering 3 sets of seats in SOLID WHITE*
Our EBR 1190 seat retrofit program has been very popular, and based on feedback and numerous requests for custom re-shaping, we've come up with a much improved seat shape compared to the factory design.
With the recent closure of the EBR factory, we bought out the remaining factory seat pans to use as the base for our custom shaped seats. This way you get the updated shape based on our R&D (thanks to you, our customers!), built on pans that will fit the bike like a factory seat – because they are built on brand new OEM pans.
We offer these seats in 3 options – 2-tone (black with carbon fiber), solid carbon fiber, or solid black.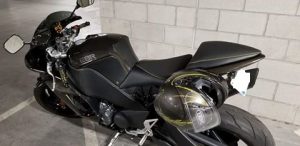 2-tone seats are available with a black center, and carbon fiber sides. Carbon fiber is available in the following colors: black, white, blue, red, silver, charcoal, galactic black, and copper. $450 shipped Order here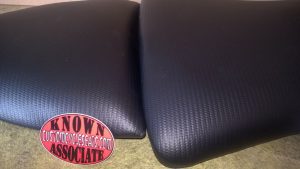 Solid carbon fiber seats are available in: black, white, blue, red, silver, charcoal, pewter, and copper. $400 shipped Order here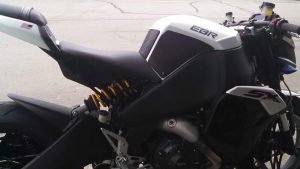 Solid black seats are $350 shipped Order here
Solid white seats are $400 shipped Order here